Welcome to the Time Guitar Site.
updated 09aug09. If you have additions or corrections to this history, please let me know. Thanks, Chris



The Time Logo



Time Guitars was started by Alan Stack. The Company was located in several Vermont locations during it's existence. Time produced hundreds of handmade guitars from the 1970's thru the 1980's. They even made a few banjos, mandolins, and DULCIMERS!

During his college years, Alan was involved with a small acoustic guitar shop in Dade County Florida. Through a barter situation, Alan had use of the shop and created what would be the first Time Guitars in Florida. I was told, that this was an acoustic for his wife Donna. During this time, Alan helped setup the shop for the production of the Mellisa brand electric guitars. In 1972, Alan moved to Vermont and setup a small shop in Bristol, Vermont.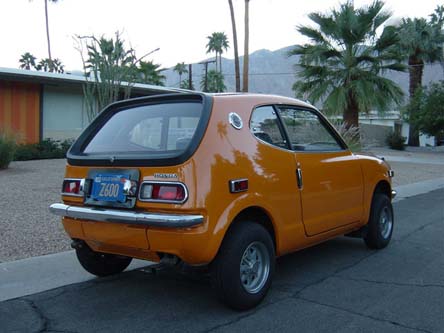 Not sure how Alan fit the shop in a Z600 for the trip from Florida...

Alan always wanted his guitars to stand out. He wanted you to either love them or hate them right away.

John Sollinger was Alan's 1st employee. John had been a long time friend of Alan in Florida and Alan convinced John to make the move to Vermont.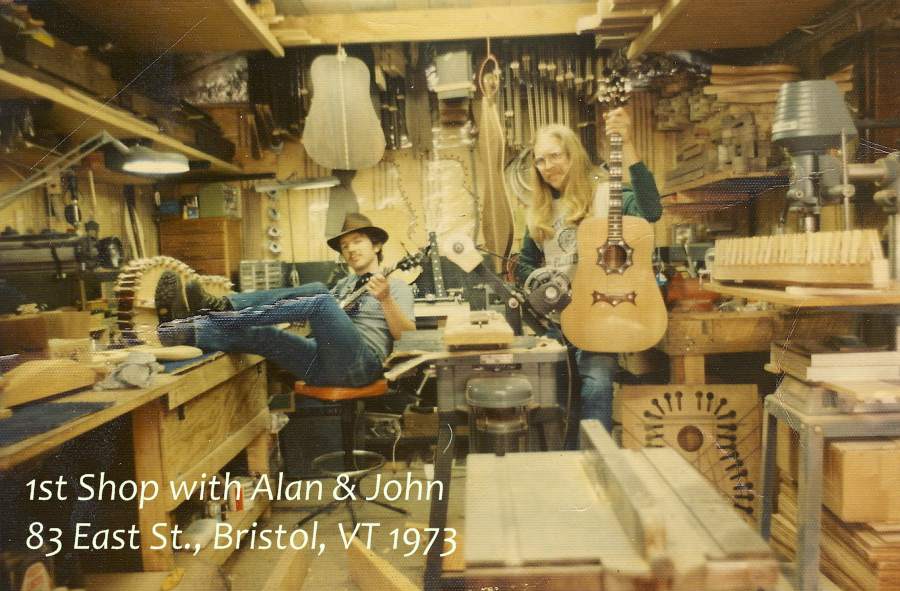 The 1st acoustic and electric guitars were built in the Bristol shop. John soon returned to Florida.

In the fall of 1974, Alan then purchased the 2nd shop in Waltham. This was large house that he converted to a factory proper. Albeit, a funky factory.





Woodman Hill House. The Time Guitars shop in Waltham. [recent photo]



John Sollinger soon returned to join the Time employees Robert Resnik and Harry Grabenstein.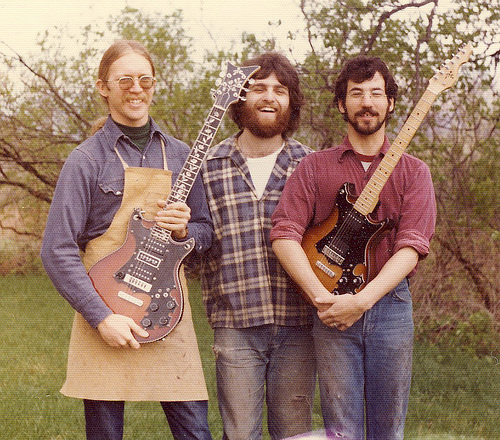 Photo from 1976 John, Robert, & Harry in Waltham.



it was at this location that the 1st production Time Kaster and GS electric guitars were developed.


My first exposure to the crew was in Waltham where Robert Resnik taught me how to do a fret honing on my Mastertone banjo. There was a whole cast of characters in Waltham that, I've been told, lived on popcorn and pinto beans. The cast of characters were usually under-employed musicians.

In 1977, due to financial constrains, the Waltham house would be sold and Time Guitars went into hibernation.

In 1978 Alan rented space at Darrell's music on Pearl Street in Burlington. Robert Resnik was operating his instrument repair business here and split the space with Alan. Alan used this space to start assembling the unfinished guitars from the Waltham shop.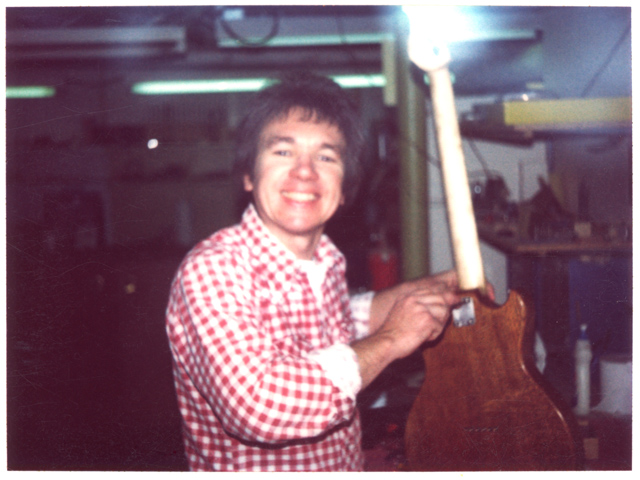 Alan assembling a Time Kaster at Darrell's Music in 1979.



Dick Willis entered the scene in 1979. Dick had a barn in South Burlington and agreed to invest and outfit this barn in return for a percentage of the company and rent once the company could manage.

At this point the name was changed to Time Guitars Inc. That was November 1979. Soon after I was hired full time and was working with Alan and John. Alan was mainly working on the barn while John & I worked at creating a parts stock pile. Alan was spraying a new catalysis finish here at night until we started to succumb to the it's toxic effects. John was especially effected by the toxins.





Darrel's Music on 179 Pearl Street, Burlington.



With Alan, John, & Chris, full production started in the barn during the summer of 1980. During this period many full and part time employees were added and let go as production necessitated. These were usually under-employed musicians.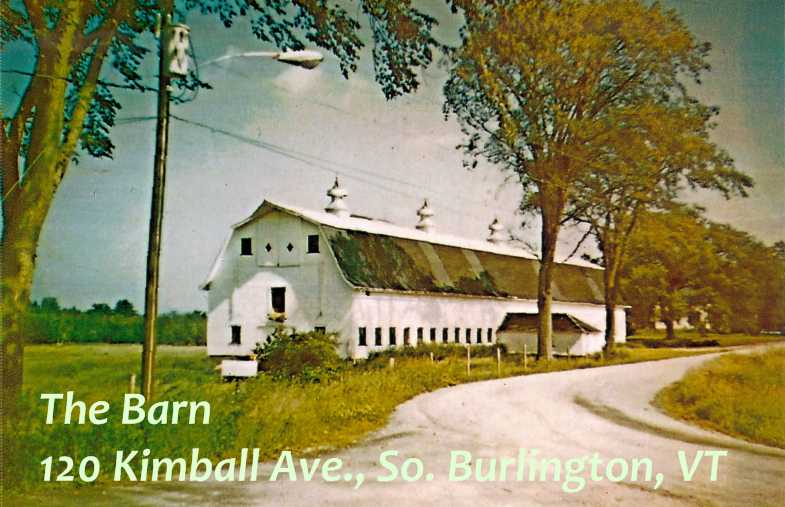 The Time Guitar barn at 120 Kimball Avenue, South Burlington.



in 1982, Alan interviewed and hired Paul Languedoc and Tim Schner to help with the growing production. Soon after, John would leave to start his own furniture company. 'The Vermont Shed Company'.

Using just a quarter of the space in the barn, The workforce could easily produce 25 guitars a month. The barn was large enough to let the company expand to over 200 instruments a month.

This was the heyday of Time guitars. Hundreds of instruments were produced.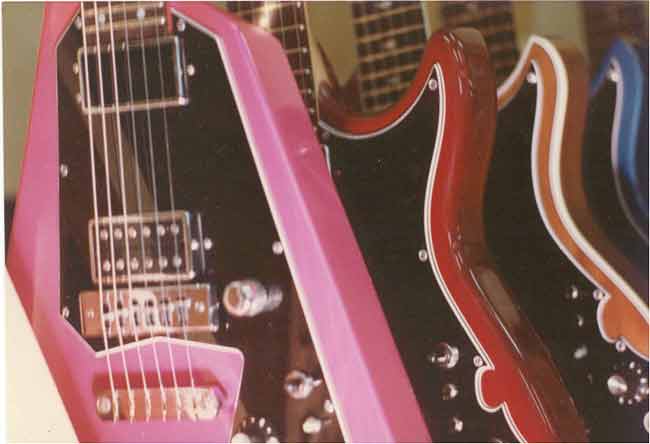 A rack of guitars at the barn. 1983
Employee roster:
Alan Stack
John Sollinger
Robert Resnik
Harry Grabenstein
Roy Feldman?
Chris Clark
Martin Grosswendt
Marty Resnik
Wendy Rother
Paul Langudoc
Tim Schner
Don Sidney
Eric Bresnick
Chris Paul
Clyde Stats
Mark Willis
Justin Willis


In February 1984 Alan, reluctantly, sold his interest in the company to Dick Willis.

Prior to this ownership change, Chris Clark was groomed and promoted to General Manager.
Many of the new models were created. Artist endorsements and national advertising were ramping up.

The company tried several unorthodox marketing methods. The 1st approach was direct mail much like Carvin guitars. The direct mail campaign used the PORTFOLIO pages.The 1/3 fold pamphlet with the GS, Time Caster and the new Prime Time guitars were mailed in response to the national ads. The second approach used a mailing list from Guitar Player magazine. These folks got the new color brochure completely out of the blue. They had postage paid postcards to send back for more info. That was modeled after GardenWay's marketing. Then there was a 'Player representatives' program, a complete flop!
All of which 'started off slow and then gradually tapered off.' One of Alan's famous quotes...

So much money and energy was wasted on these approaches. We were paying a 'business consultant/ marketing guru' every month. By the time we moved to a sane dealer based network early 1986, we were tapped out.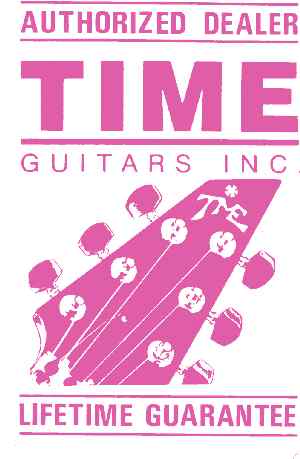 Dealer window sticker 1985



Along with all this crazy marketing stuff, Time managed to retool and start adding some one off guitars and production innovations. Some later saw limited production.


The 5 string Mandolin Telecasters.
The IC Headless guitars.
The 'Bat Man' Headless guitar.
The New England Digital Synth guitar.
The Warlock guitar.
The Mini Casters.
The Time Caster basses.
The Prime Time Basses.
The Advance Time Basses.
The Explorer bass.
The Time banjos.
The carved top Brazilian Rosewood GS Artist.
The F-5 style mandolins by Paul L.
The Pressure-wound pickups with vacuum potting.
The fret press & pneumatic gluing jigs.


During this time the Prime Time [1984] & Advance Time [1985] guitars were introduced.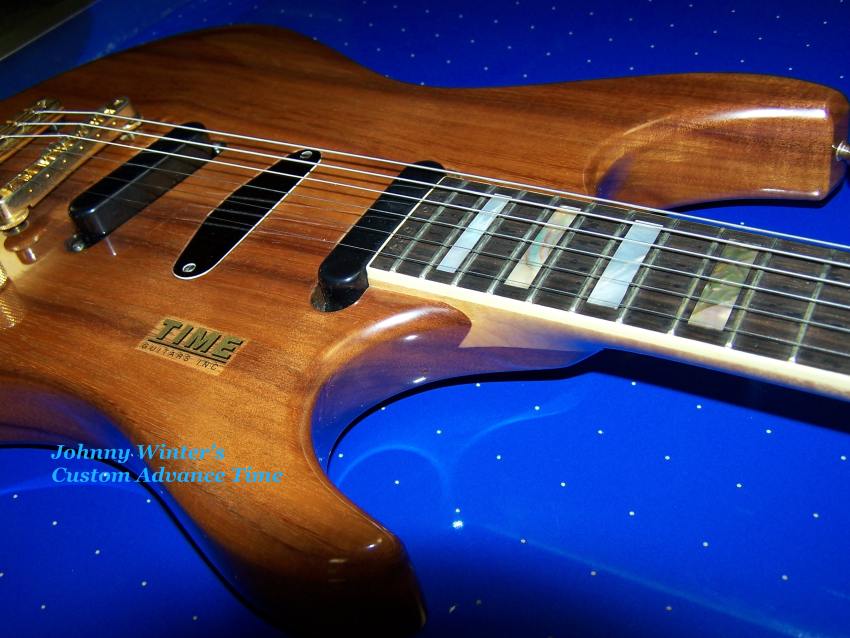 One of Johnny Winter's Time Guitars; courtesy of the Willis Family Collection. 1986





The Robbery.


On August 4th 1984, Time guitars was robbed. 10 Guitars were stolen. Later that week 7 were recovered, but were too damaged to sell. To placed a huge burden on the company. The thief, Eben Sexton, was ordered to reimburse Time, but never did. All guitars sold after this date will have the serial number stamped at the fingerboard end. This allows police to ID guitars more easily.

Earlier guitars have this number at the end of neck and it is obscured by the neck pickup.





The Closing.


As sales failed to keep pace with payroll & rent, Dick brought in his son Justin. In February of 86, Justin become the General Manager. I left the company shortly after this change. Paul & Tim stayed on until later that year.

In 1987, Time Guitars officially closed. [They filed with the state of Vermont] The Willis family sold many of the unfinished guitars. Other guitars were divided among the Willis siblings. The documentation for these exists and I have a copy.



The Fire.


Later on Nov. 13 1991, the Barn was torched by an arsonist. Almost all the contents were destroyed. For many, this was one of the saddest days. The Willis family still have many of the completed or near completed guitars. Prior to the fire, Mark Willis had moved many guitars in various states of completion into the still heated office space. Some received water damage, but are otherwise intact.



25May09

, In updating this post, I would like to thank all the people that have found this site and sent in their pictures and stories. I would like to thank you all for your kind words and encouragement.



This site really is a WayBack machine!





Thanks, Chris



Alan Stack: Father Of Time. Bristol 1973