Probably the most unique feature of the Time Guitar were the all those little switches. These spark more questions and curiosity then any other trait. So let's dive in and I'll take a whack at it.
GS guitar with 4 in-line mini-switches.
The GS9 has the same switching/wiring as a GS12. The difference is in the 'trim and wood selections.
The
pickup selector
is pretty standard, as are the
coil drop
switches. Things get interesting with the Phase and Series/Parallel switches.
Phase Switch:
This automatically turns both pickup on and out of phase. You don't need to put the Pickup Selector in the center position.
Series/Parallel Switch:
In the down position the pickups are in 'parallel'. just like any other guitar. In the up position, both pickups are on and wired in series. This also bypasses the Pickup Selector. The series configuration is basically one giant humbucker with four coils. It boosts the output. The bridge tone control becomes the master tone control.
The volume controls use a capacitor like Fender Tele's. As you turn down the volume, the capacitor allows high end frequencies to pass thru. I.E. It gets 'cleaner'. On some of the later guitars the coil drops also switched out different caps on the volume controls.
One of the coolest sounds is when you turn on the neck coil drop, phase & series/parallel switches. This puts the guitar into a mode where the guitar has a three coil humbucker that's 1/2 out of phase! Try it out!
Here a shot of the switch wiring. GS9-152 dated 1/83
EARLY WALTHAM GS
Note: GS guitars from the Waltham era have pickup phase and coil tap switches in place of master phase and series/parallel switches. I have recently seen a Time Kaster bolt-on guitar #22 dated 3/76 with the inline switches.

GS1 #22 dated 3/76 with in-line mini switches.
The earliest GS guitars have the switches placed 2 over 2 and not inline.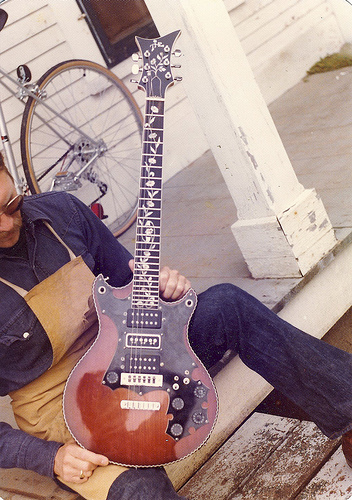 John S. with the Johnny Moore GS. Note the 2 over 2 switches.