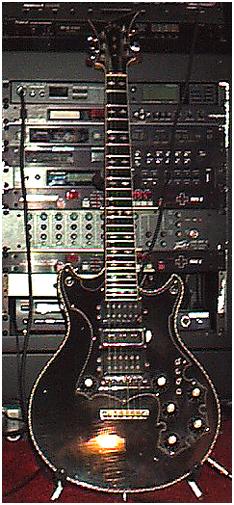 This has a very rare center pickup. custom inlay and 'Flight Strip' binding.
Notice the 2 selector switches. The lower horn switch controls the center pickup. It's positions are: Center only, Center off, and center with bridge & neck pickups.
This is how the majority of the 3 pickup TimeCasters are wired.
Also notice the volume knob ABOVE the bridge. [center pickup]
I remember seeing the jigs for this guitar stored in the parts room at the Barn.
Thanks to SollyDad, this is
Johnny Moore's
guitar. It was at the Waltham shop for tune-up in 1976.